If you're like me, scrambling in the ninth inning to complete this year's holiday knitting, then our Homestretch Hat is to the rescue!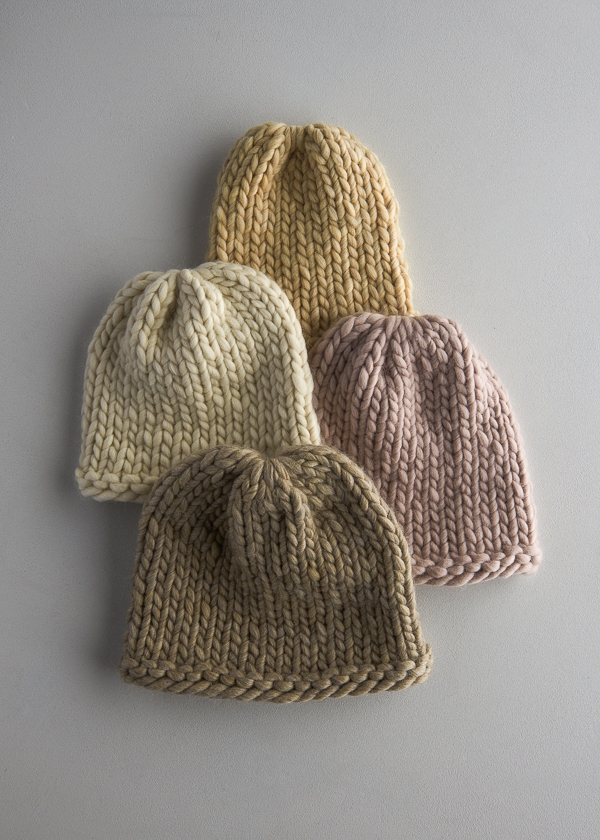 Using just one skein of Purl Soho's Gentle Giant, this super quick knit has no decreases and, best off all, requires no double pointed needles. For beginners intimidated by those things, as well as for more seasoned knitters who need a quick gift, the Homestretch Hat is a no-brainer!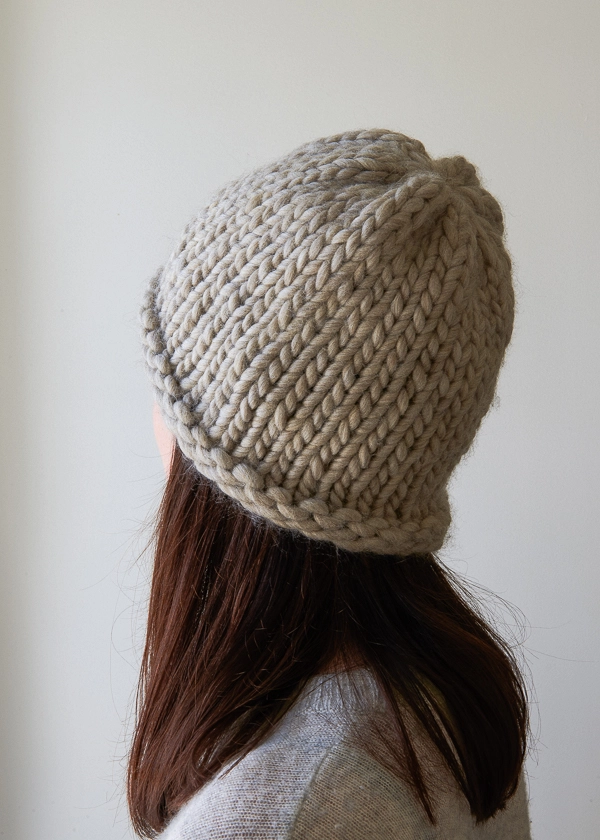 Its classic silhouette looks good on everyone, and with a new palette of beautiful Gentle Giant colors to choose from, the Homestretch Hat will surely suit everyone on your list. Oh, and did I mention?… No double pointed needles! -Jake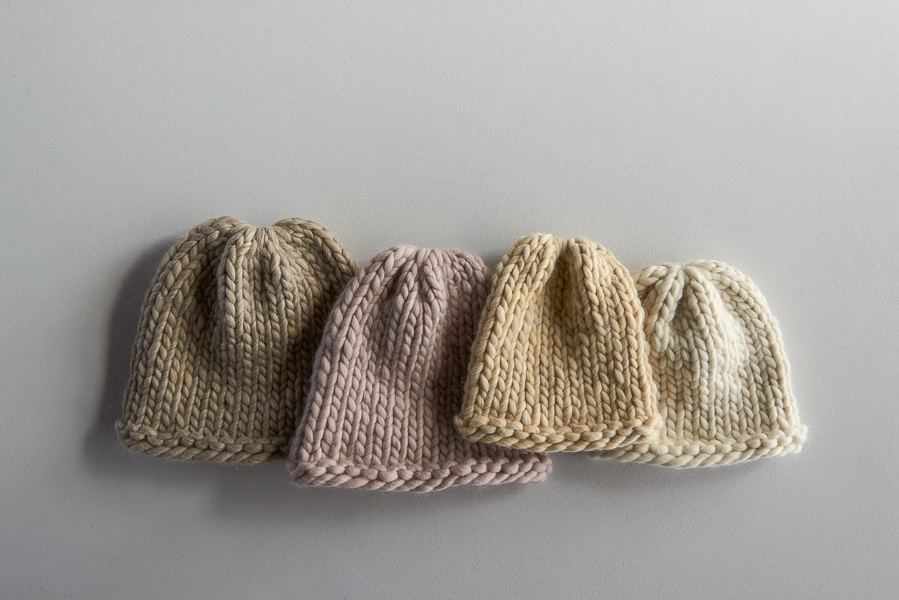 Update: New Colors
December 2017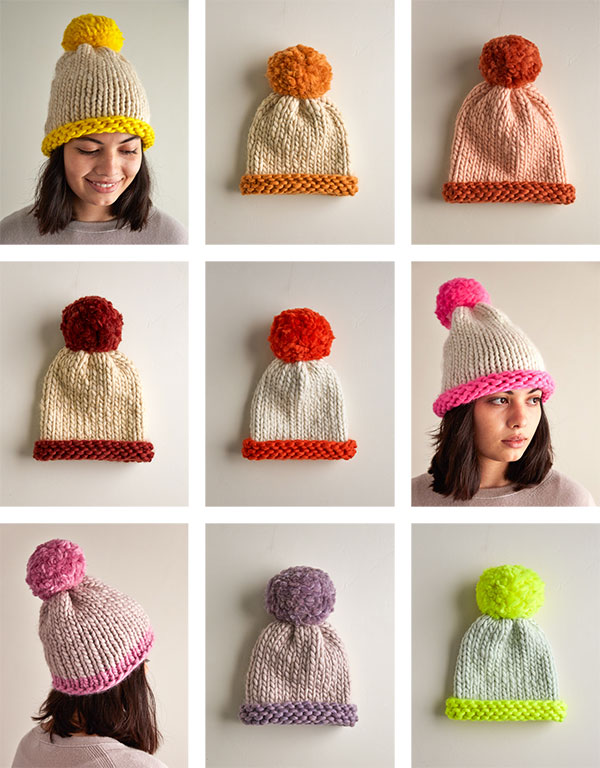 Now in two colors of our soft and cozy Gentle Giant, our Two-Color Homestretch Hat is not only a super quick knit, it's also a real mood lifter!
Update: New Pom Poms
November 2019
We're having a party and you're invited! We've topped a few of our favorite hat patterns with festive pom poms including our Homestretch Hat! Using our Pom Pom Maker Set in the Small + Large and Extra Large + Jumbo sizes, adorn your Homestretch Hat and join in on the party here!
Update: New Style
December 2021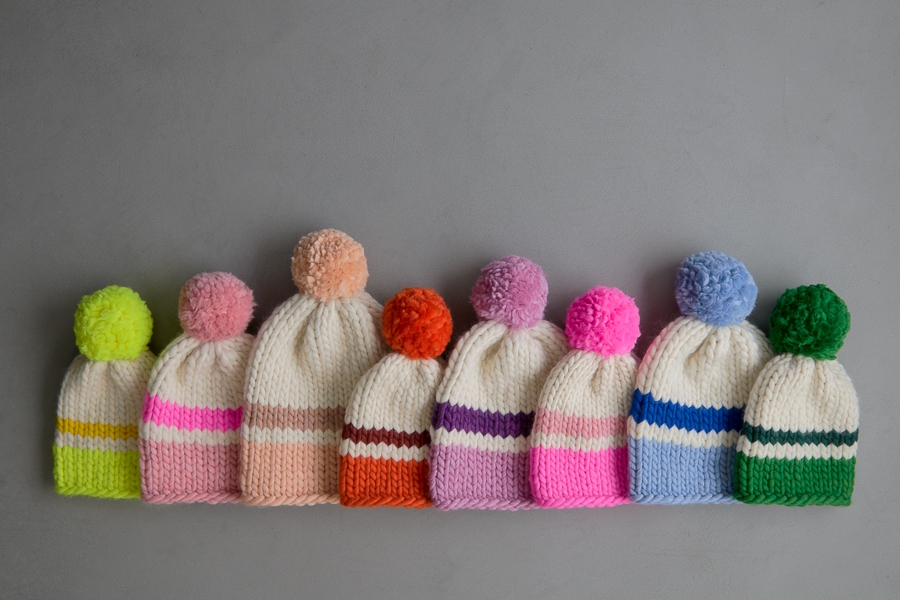 Our Happy Hat uses the same basic pattern as our original Homestretch Hat, but with the boost of sweet stripes and chipper pom poms! Check out our free Happy Hat pattern here and pick up a Happy Hat Bundle here!
Designed by Purl Soho designer, Jake Canton. Click here to see even more of Jake's designs!
Share your progress and connect with the community by tagging your pics with #PurlSoho, #PurlSohoBusyHands, #PurlSohoHomestretchHat, and #PurlSohoGentleGiant. We can't wait to see what you make!
Materials
1 skein of Purl Soho's Gentle Giant, 100% merino wool. Each skein is 48 yards; approximately 30 (36, 48, 48) yards required. We used, clockwise from top left, White Peppercorn, Heirloom White, Wolf Brown, and Silver Mauve.
US 17 (12mm), 16-inch circular needles
Gauge
7 stitches and 10 rounds = 4 inches
NOTE: The Adult Large size uses the entire skein of Gentle Giant, so be especially sure to get the correct gauge if you're making that size!
Sizes
Baby (Kid, Adult Small, Adult Large)
Finished Circumference: 14 (16, 18, 20) inches
Finished Height: 7 ¾ (8 ¾, 9 ¾, 10 ¾) inches
Pattern
Loosely cast on 24 (28, 31, 35) stitches. We used a basic Long Tail Cast On.
Place a marker and join for working in the round, being careful to not twist the stitches.
Round 1: Purl.
Round 2: Knit.
Repeat Round 2 until piece measures 7 3/4 (8 3/4, 9 3/4, 10 3/4) inches from the cast-on edge.
Cut the yarn, leaving about a 12-inch tail.
Thread the tail onto a tapestry needle, and thread the needle through all the live stitches. Pull taut, and then bring the tail to the inside of the hat and weave it in.
Weave in the remaining end, and steam to block, if desired.