Our Open Air Wrap loves a yarn with personality! The original version, in Habu's crispy Silk Wrap Paper, was a bit sculptural, a bit outside-of-the-box. And now in Linen Quill, the Open Air Wrap reveals a whole other side, one that is soft and voluminous, refined and classic.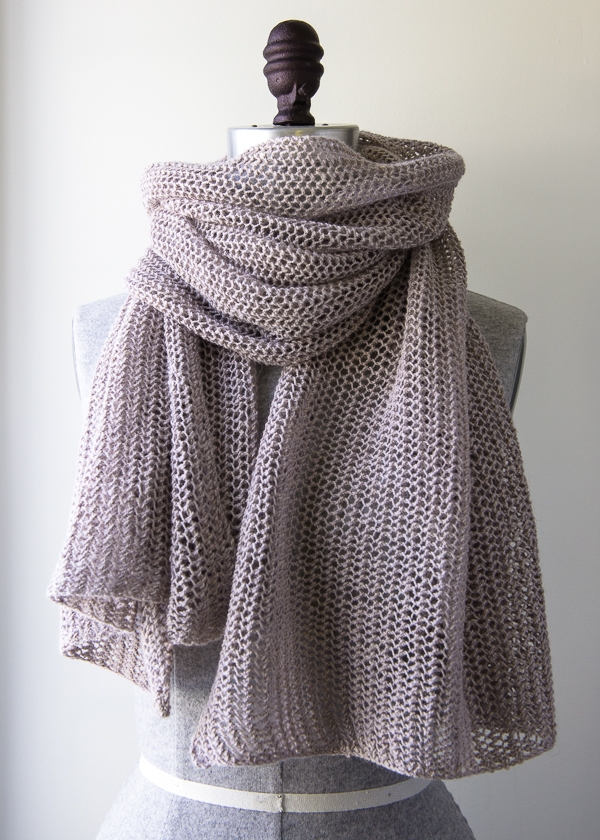 With a grand total of one repeating line, this pattern, aka the Purse Stitch, could hardly be simpler. Its open lace structure is so speedy that your Wrap will be done in time for your next summer wedding, vacation, or beach bonfire!
All you need to get started are two skeins of Purl Soho's Linen Quill. A distinctive blend of alpaca, merino, and linen, Linen Quill is lightweight and gorgeous, just right for an Open Air Wrap!
Designed by Purl Soho designer, Whitney Van Nes.
Share your progress and connect with the community by tagging your pics with #PurlSoho, #PurlSohoBusyHands, #PurlSohoOpenAirWrap, and #PurlSohoLinenQuill. We can't wait to see what you make!
Materials
2 skeins of Purl Soho's Linen Quill, 50% fine highland wool, 35% alpaca, and 15% linen. Each skein is approximately 439 yards/100 grams; approximately 878 yards required. For one wrap we used the color Stonewall Gray, and for the other, Lavender Opal.
More Colors
Stonewall Gray is cool and sophisticated, but we love these colors too!
TURMERIC YELLOW
OATMEAL GRAY
SALT + PEPPER
Gauge
20 stitches = 4 inches in stitch pattern, unblocked
18 stitches = 4 inches in stitch pattern, blocked
Size
Finished Dimensions, Unblocked: 19½ inches wide x 65 inches long
Finished Dimensions, Blocked: 22 inches wide x 70 inches long
Pattern
For the free pattern, please visit our original Open Air Wrap story.