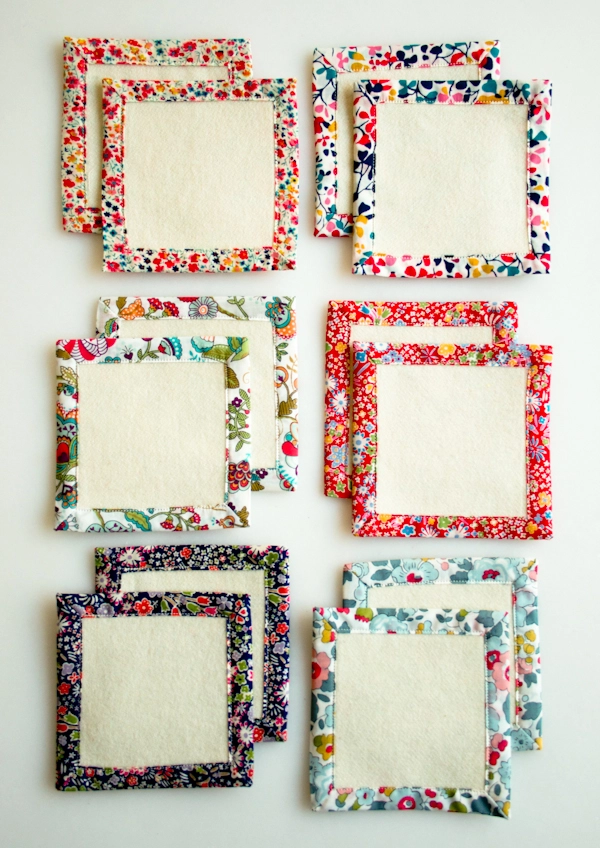 From eggnog to champagne and hot chocolate to hot toddies, 'tis the season for sipping, slurping and toasting! And while there are always plenty of drinks to go around, it's easy to find oneself short on places to put them, especially in a house filled with revelers.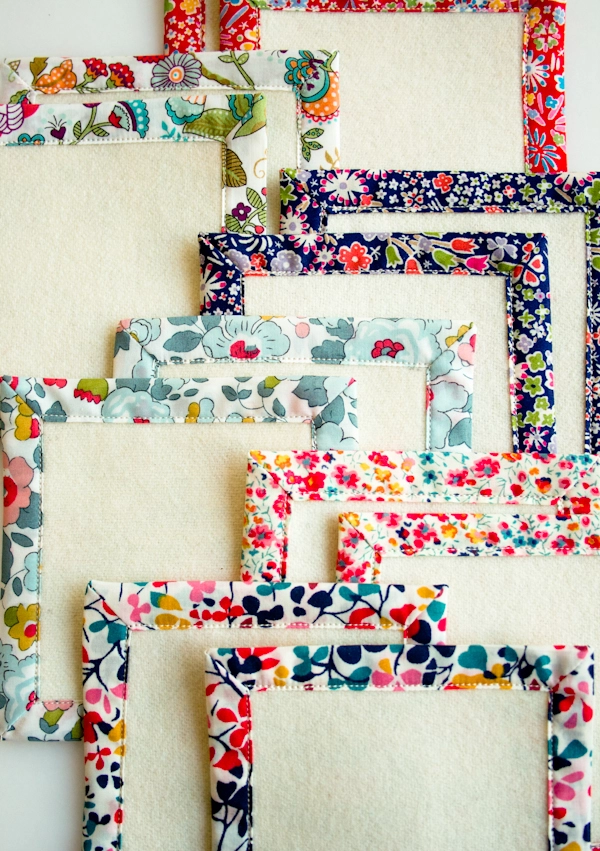 Let these Liberty Coasters come to the rescue! With their mitered corners and festive Liberty of London prints, these coasters beautifully accompany even the fanciest holiday cocktail, while Dorr Mill's Wool Yardage lining makes them sturdy, absorbent and most important, useful.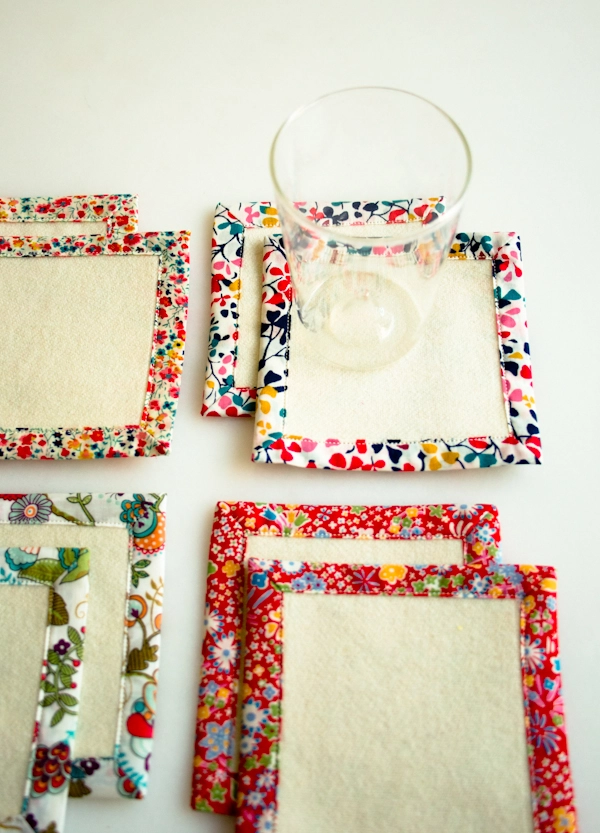 So, whether they're staying with you or going to the host of your next holiday party, there will be plenty of cheer to go around. Now that's something I can raise a glass to! – Corinne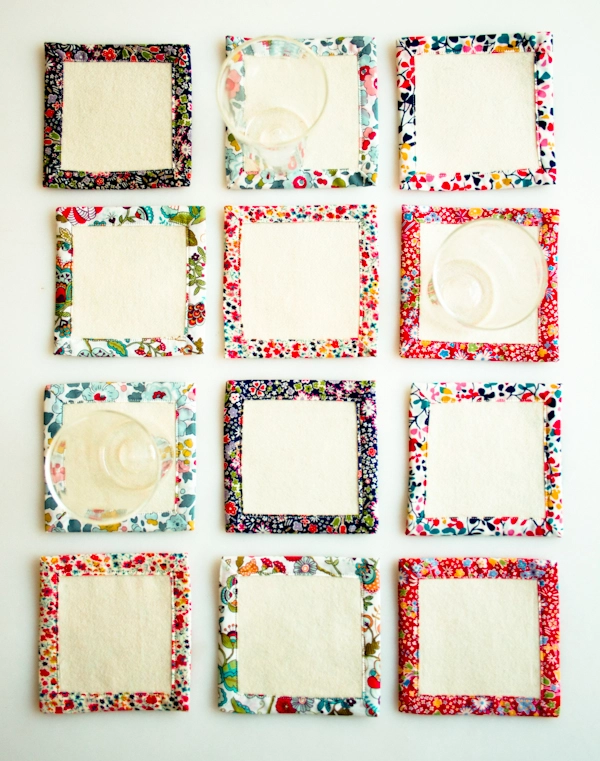 Materials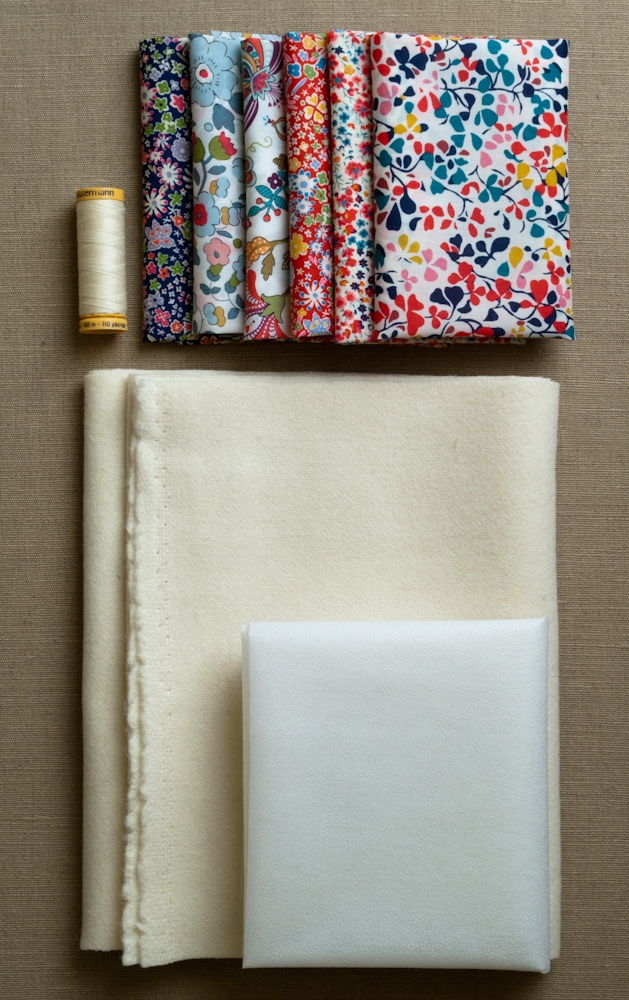 These are enough materials to make twelve 4 x 4-inch coasters.
Notes
Prewash and dry all fabrics before starting. Do not wash the interfacing. The wool will felt and shrink in the wash.
Pattern
Cut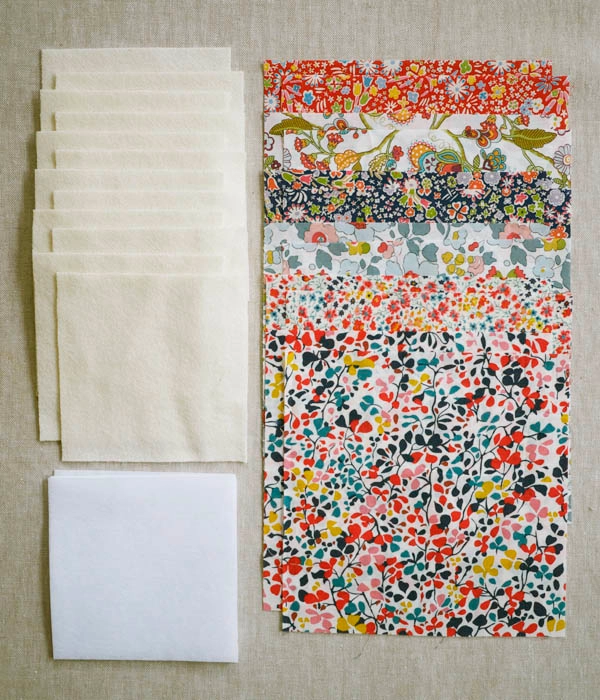 Cut the wool and interfacing into twelve 4 by 4-inch squares.
Cut the Liberty into twelve 6 by 6-inch squares. You will get two squares out of each Liberty print.
Apply the Interfacing
Using a hot iron and following the manufacturer's instructions, apply one square of interfacing to one square of wool. Repeat with the remaining wool and interfacing squares.
Sew the Mitered Corners
With the wrong side of a Liberty square facing up, fold and press all four sides ¼ inch towards the wrong side.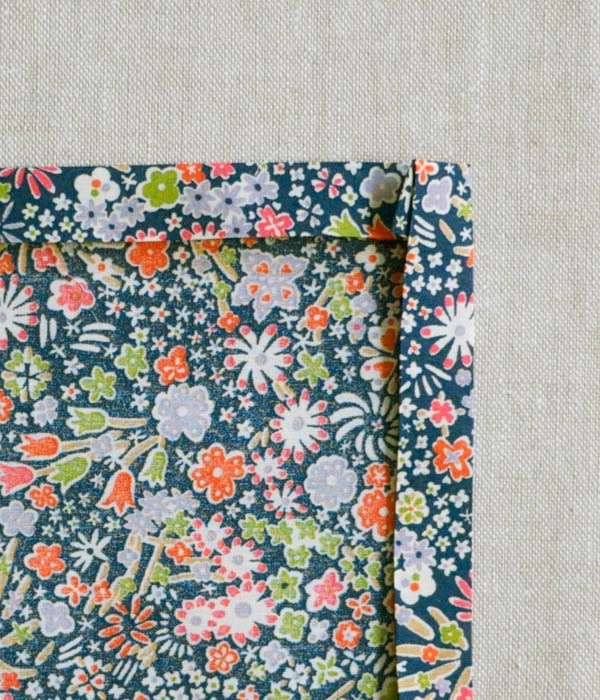 Now fold and press all four sides 1/2 inch towards the wrong side.
Open the second fold to reveal the pressed lines.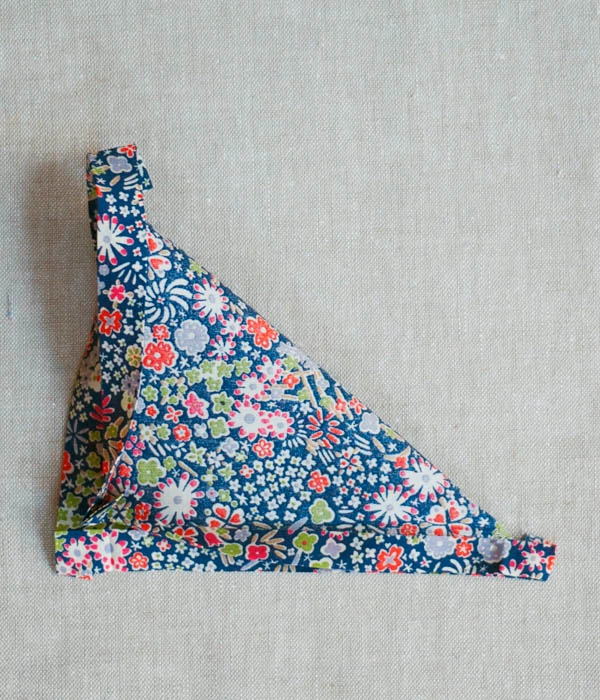 Fold the fabric, right sides together, into a triangle, lining up the outside edges. We'll call this fold the "center fold."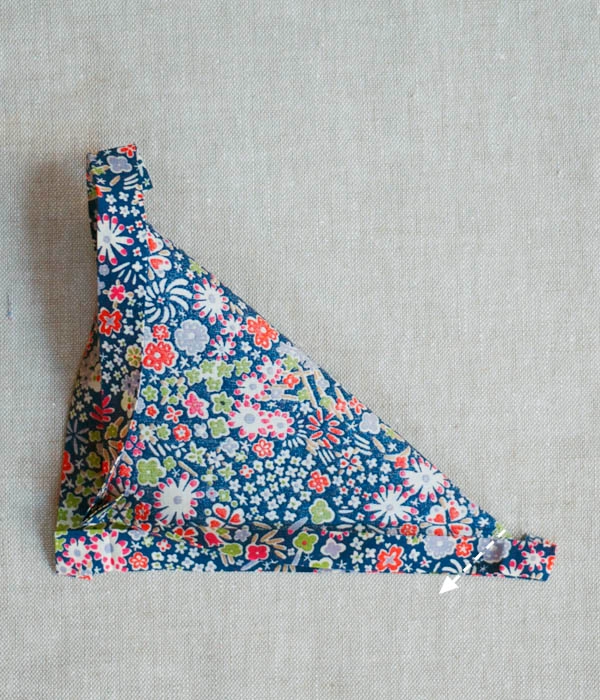 Starting at the point where the exposed pressed fold meets the center fold, sew to the outside edge, as indicated above by the white arrow. This seam should be at a 90-degree angle to the center fold and a 45-degree angle to the pressed edges.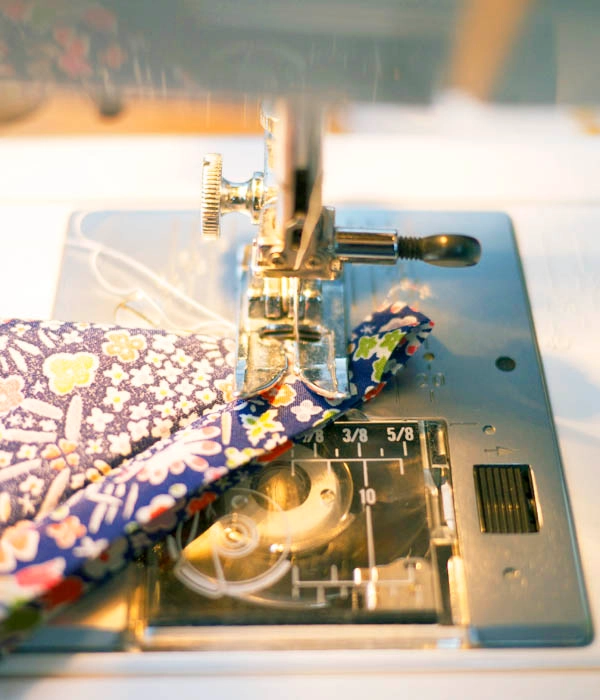 To make sure you are sewing at the proper angle, position the center fold so it is perpendicular to the presser foot of your machine.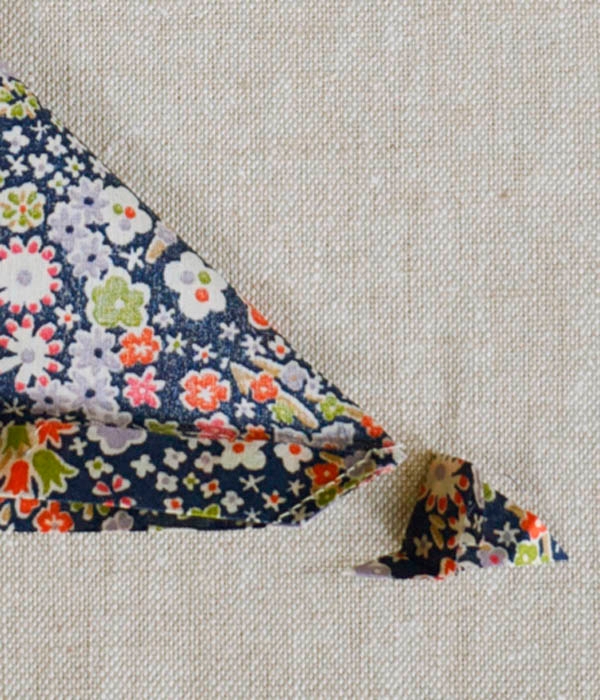 Trim the corner triangle of seam allowance, 1/8 inch from the stitch line.
Repeat with the remaining three corners.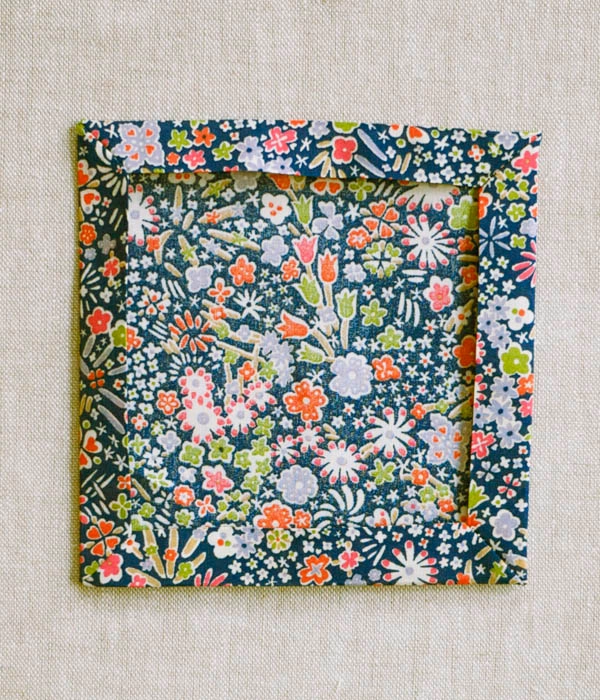 Refold the hem along the previously pressed lines back towards the wrong side and press flat. The corners are now finished.
Attach the Lining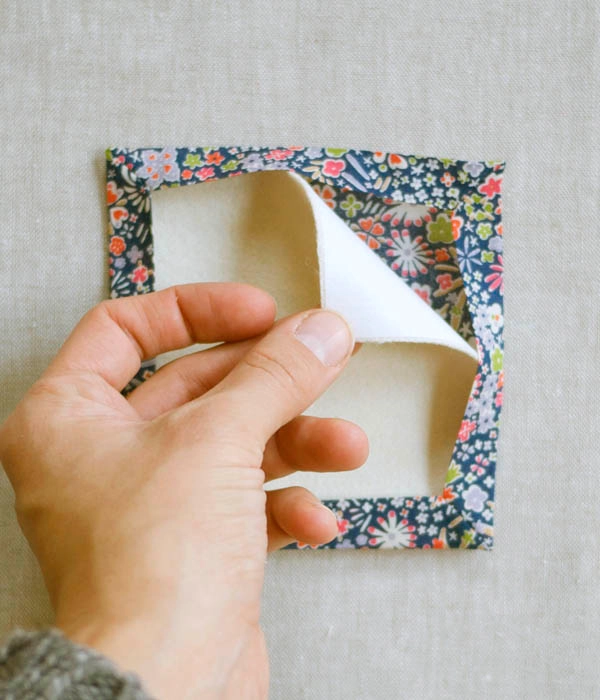 With the wool side facing up, tuck one wool square under the hems of the Liberty piece.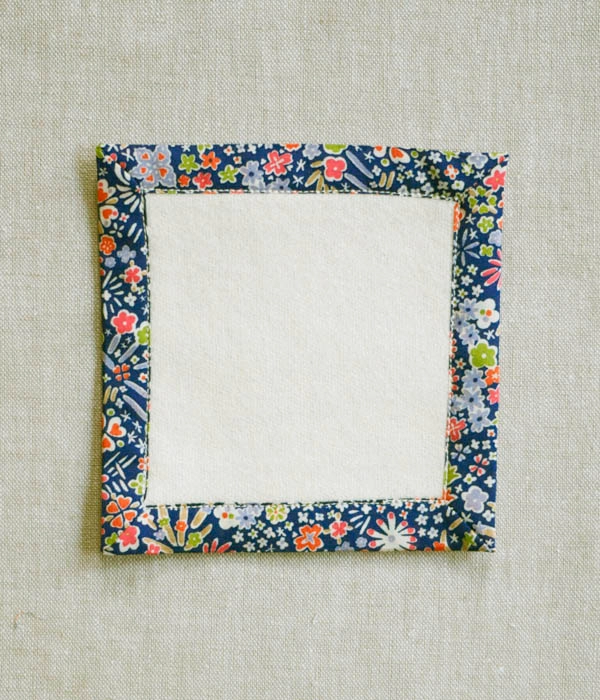 Edge stitch along the interior fold of the Liberty fabric.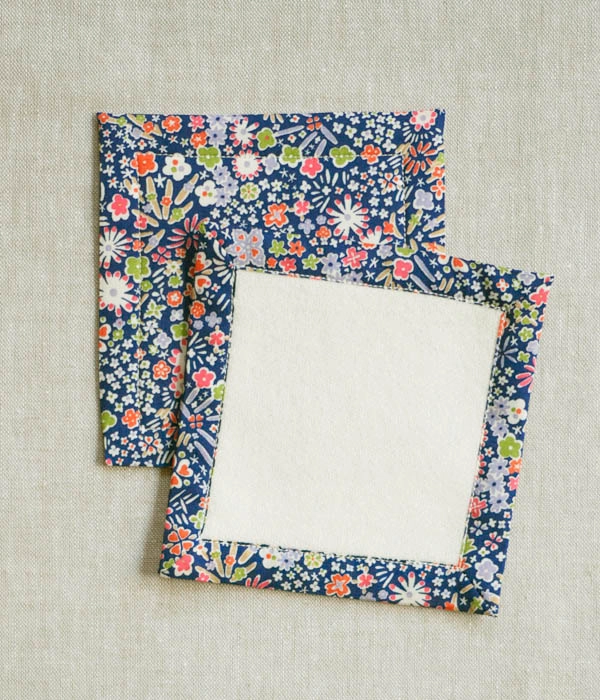 Repeat with all the the remaining squares for a full set of Liberty Coasters!