The Super Easy Baby Blanket has become something of an institution here at the Purl Bee. We love how accessible this pattern is to knitters of all levels, and even more, we love the opportunity to play with gorgeous palettes of color!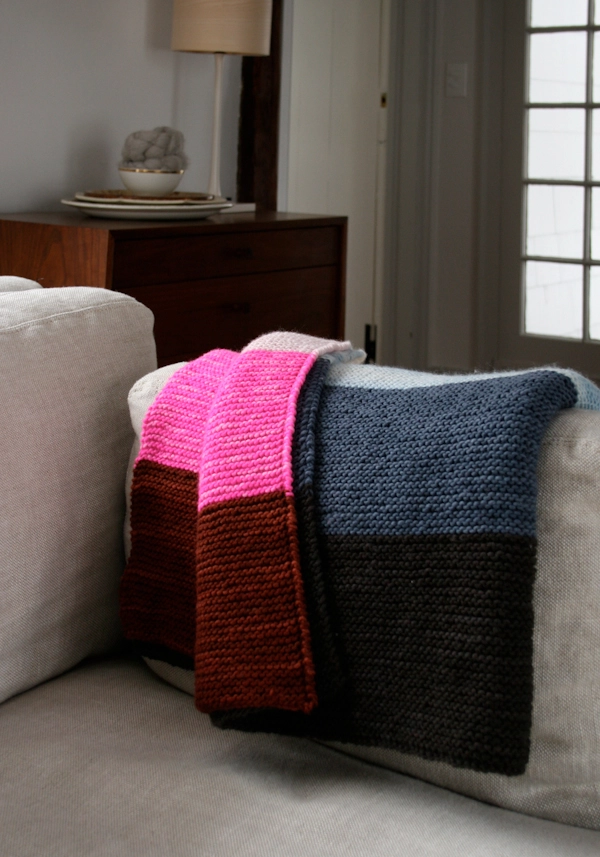 I knit up the original Super Easy Baby Blanket four and a half years ago in Alchemy's gorgeous Temple superwash merino. Later, Faye knit her own interpretation with Koigu's Kersti Merino Crepe. With its ocean and sunshine colors and a squishier feel, her New Super Easy Baby Blanket was such a smash that we made it into a super easy kit! And most recently, we used our own Super Soft Merino for a bigger, even cushier version that we call the Super Easy Crib Blanket.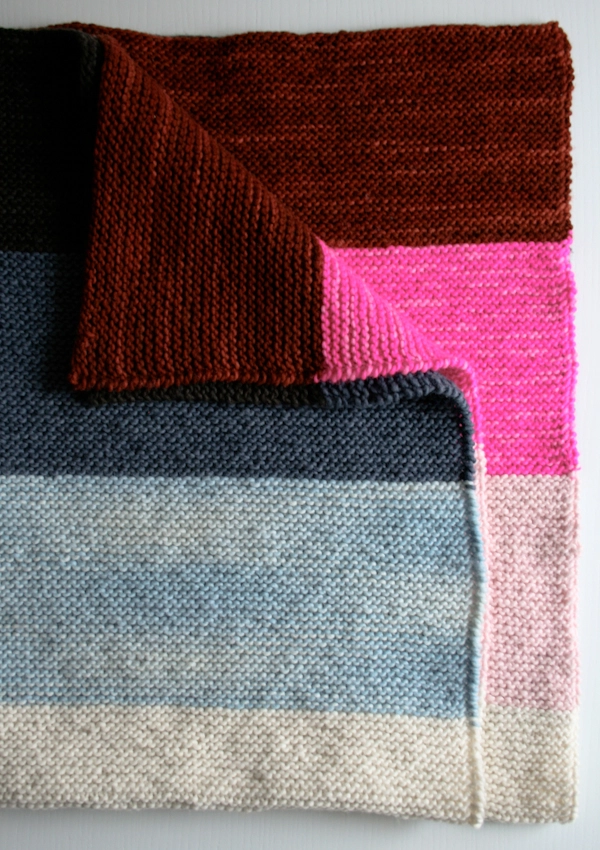 And now here is our biggest version yet, the Super Easy Lap Blanket! Knit out of Manos Del Uruguay's amazing Maxima, this one is cozy soft, decadently toasty and looks absolutely stunning in kettle-dyed, hand-spun 100% extrafine merino wool.
The Super Easy Lap Blanket is perfect for drafty winter evenings on the couch and chilly mornings at the kitchen table. And in colors that meander from rich Mahogany, through the land of pinks and blues, to finish in deep Dark Chocolate, this version has a sophisticated drama that will light up any room! -Whitney
 Materials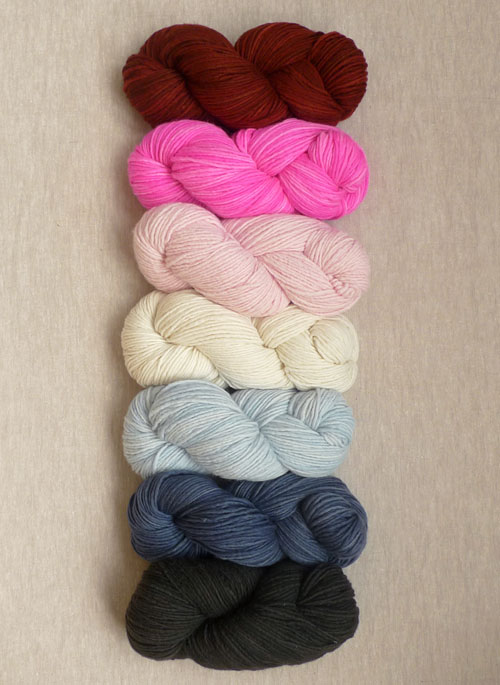 7 skeins of Manos Del Uruguay's Maxima, 100% extra merino merino wool. These colors, from the top, are Mahogany, Shocking, Cotton Candy, Natural, Stratus, Pewter, and Dark Chocolate.
US 10 (6 mm), 32 or 40-inch circular needles
Gauge
16 ¼ stitches = 4 inches in garter stitch
Size
35 inches x 44 inches
Note
To get a nice, neat edge, just slip the first stitch of every row knitwise with the yarn in back.
Pattern
Starting with the color Dark Chocolate, cast on 142 stitches.
Knit every row until the skein runs out (or for about 6 1/4 inches from the cast on edge).
Join the color Pewter.
Knit until the skein runs out, making sure to end on the same side you finished the Dark Chocolate. In other words, all of the tails (except, perhaps, the cast on tail) will be along the same selvage, and the first row of every color will be on the "right side" of the blanket and you will end each color on the "wrong side".
Continuing…
*Join the next color (Stratus).
Knit until the skein runs out, ending with a wrong side row.
Repeat from * working through the next three colors: Natural, Cotton Candy, and Shocking.
Finish with Mahogany, knitting the entire skein minus about 3 yards.
Bind off loosely and weave in all the ends.