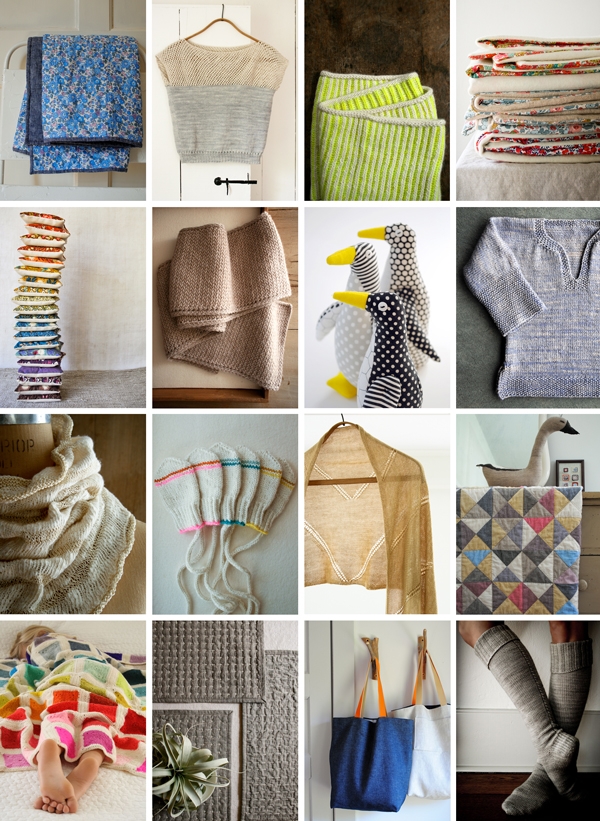 We had another whirlwind year here at the Purl Bee! Two thousand and twelve proved to be not only our most productive year yet, but also our most inspired. Always hoping to design the very thing that would spark your creative fire, our imaginations traveled far and wide this year. From waddling penguins to sophisticated cowls, here's a look back on some of our very favorite projects…
Top row: Windowpane Wholecloth Baby Quilt, Cap Sleeve Lattice Top, Brioche Cowl, Liberty and Wool Lap Duvets
Second Row: Lavender Sachets, Men's Mini Herringbone Scarf, Purl Bee Penguin, Easy Pullover for Babies, Toddlers and Kids
Third Row: White Caps Cowl, Infant Mittens, Whisper Wrap, Broken Dishes Baby Quilt
Bottom Row: Bear's Rainbow Blanket, Reversible Sashiko Placemats, Forty Minute Tote, Little Cable Knee Highs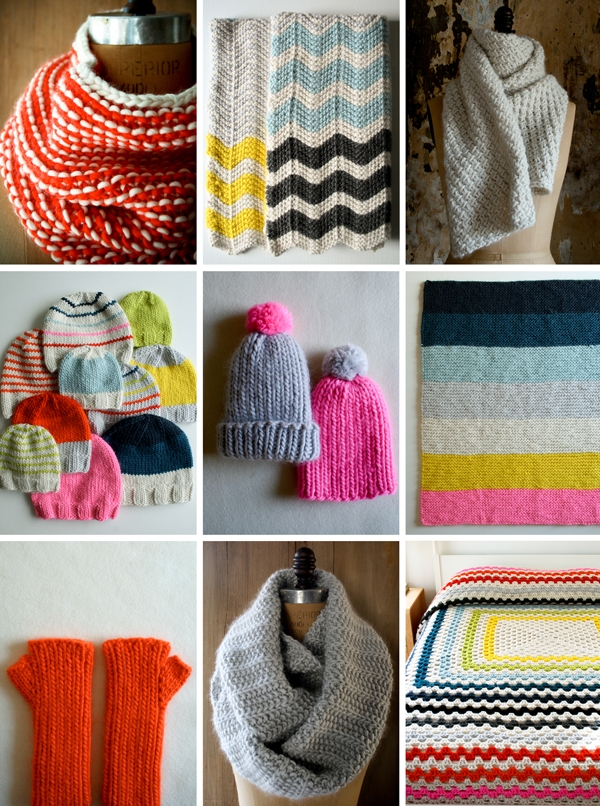 This year also brought the exciting arrival of Purl Soho's very own yarn, Super Soft Merino! Its sumptuous depth and vibrant palette brought out the very best in our creative energies. One-skein hand warmers, hats for the whole family, and even a Giant, Giant Granny Square Blanket that truly lives up to its name, Super Soft Merino inspired our coziest designs of the year!
Top Row: Garter Gaiter, Chevron Baby Blanket in Merino, Snowflake Scarf
Middle Row: Hats for Everyone!, Super Simple Super Soft Merino Baby Hat, Super Easy Crib Blanket
Bottom Row: Super Soft Merino Hand Warmers, Fluted Cowl, Giant, Giant Granny Square Blanket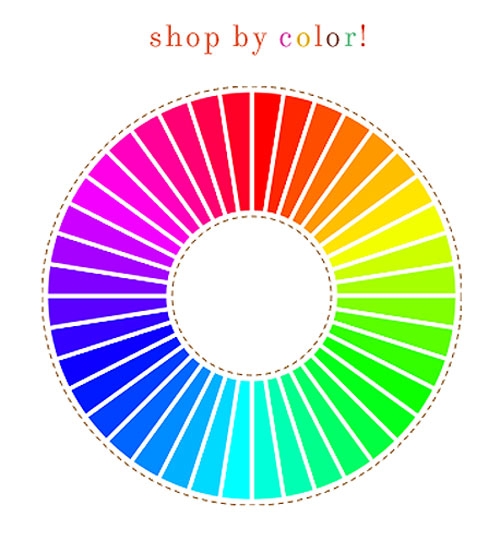 And this year's best addition to our online store? Hands down, it had to be our Shop By Color feature! Since we love color as much as you do, we understood that being able to filter products by color would be a very welcome improvement to the online experience. And so, we put the rainbow in your hands, making every color as searchable online as it is on a shelf. Amazing!
Did we forget anything? Let us know if we missed your favorites! And have a very warm and happy New Year!