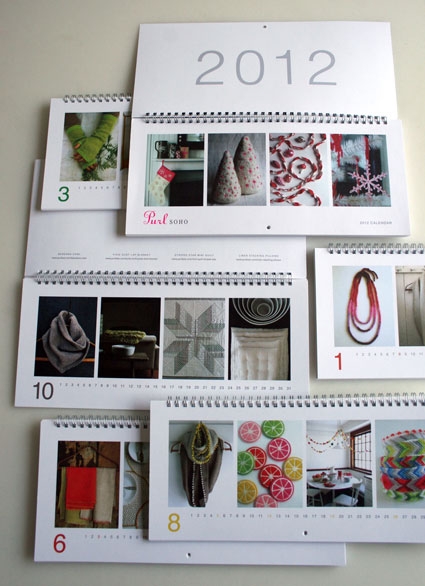 Don't miss our Holiday Gift List 2011! Even if you caught it the first time around, check again: there's more! We couldn't resist adding three new products that have arrived just in time for giving: Skacel's new sparkly gold Addi Turbo US size 50s, Sunfelt's amazing Felt Animal Kits, and our very own 2012 Purl Soho Calendar. So, dig into this treasure trove of thoughtful giving ideas. Think about what to give… and what to get!
2012 Purl Soho Calendar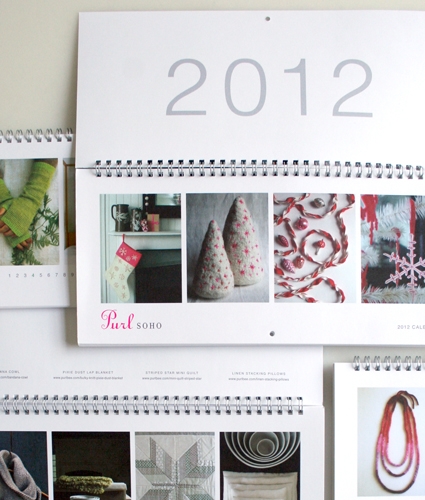 Our 2012 Purl Soho Calendar is here! From January to December, enjoy a whole year of beautiful photos and inspiring Purl Bee projects. Remember old favorites and catch up on a few you may have missed. With links to almost 50 free patterns and loads of seasonal inspiration, you'll want to get a few and save one for yourself!
Last Minute Gifts by Joelle Hoverson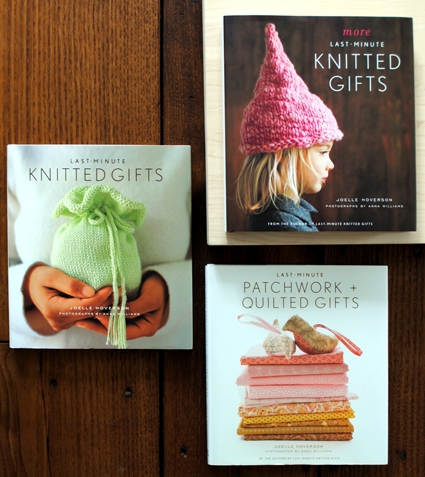 Joelle Hoverson is not just the founder and co-owner of Purl Soho, she is also the magic behind the beloved books, Last Minute Knitted Gifts, More Last Minute Knitted Gifts and Last Minute Patchwork and Quilting Books. Each one contains a beautiful collection of timeless designs with a fresh modern touch. Use these books to guide you through the perils of this season's last minute crafting, or give them as sure-to-be-loved gifts!
Mary Flanagan Mini Textured Wool Felt Bundles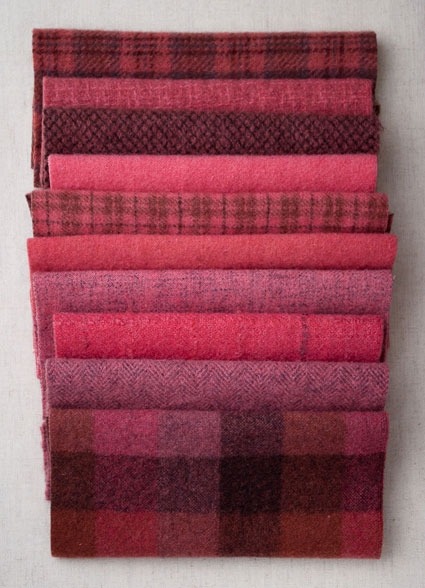 Mary Flanagan's Mini Textured Felted Wool Bundles are stacks of little sumptuous gems! Each bundle of 10 textured wools is dyed together in the same bath, creating a perfectly orchestrated assortment of mix-and-match beauty. So soft and inviting, these bundles are wonderful gifts on their own, and they're also the secret ingredient to the Purl Bee's seriously stunning Felted Wool Patchwork Throw.
Sunfelt Animal Felt Kits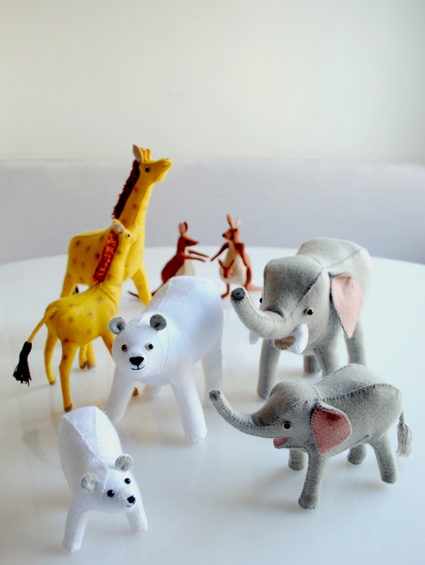 Just in time for the holidays, we're so happy to welcome these adorable Sunfelt Animal Kits! These sophisticated stuffed toys are beautifully detailed and lovingly designed, making them wonderful gifts for kids or adults. Or give a kit to crafting friends and family. It's two gifts in one: the pleasure of creating and the good feeling of a new animal friend!
Felt Animals Kits from Cynthia Treen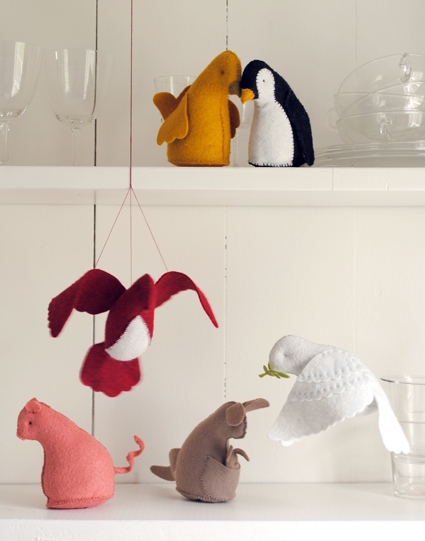 A pensive penguin, a peaceful dove, a perky pig, these amazing felt animal kits from Cynthia Treen are the perfect gift! Sew some up and give a menagerie; or give a kit to someone who might appreciate a quiet afternoon with some thread and a needle. Full of personality and beautifully conceived, these sweet little animals are sure to bring a smile!
Liberty Mini Rainbow Bundles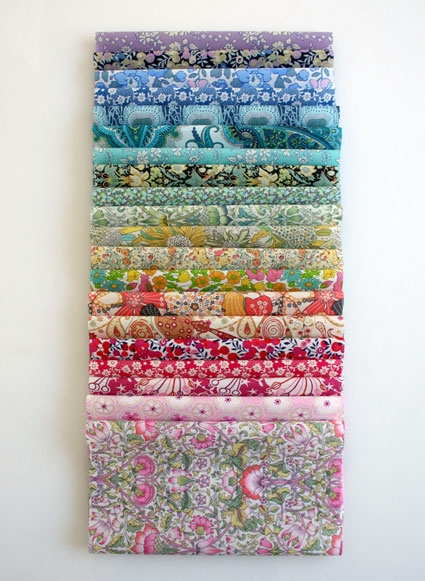 Our very special Liberty Mini Rainbow Bundles feel like piles of happy sunshine! Each stack includes twenty beautiful prints from Liberty's legendary Tana Lawn Collections, from delicate pinks to pretty purples with the entire rainbow in between. Use a bundle to make Emily's Memory Game (a lovely gift for families!), or give a bundle to one very lucky quilter!
Penguin Threads Book Series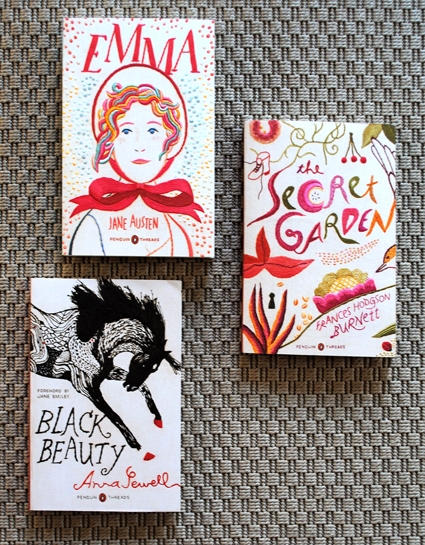 The Penguin Threads Series was recently inaugurated with new editions of three beloved classics: Jane Austen's Emma, Frances Hodgson Burnett's The Secret Garden and Anna Sewell's Black Beauty. Each features the extraordinary embroidery of artist, Jillian Tamaki. Tamaki's fanciful style truly captures the brave and creative spirits of these memorable stories. Give a special edition of a timeless favorite to the avid readers in your life!
Historical Needlepoint Canvases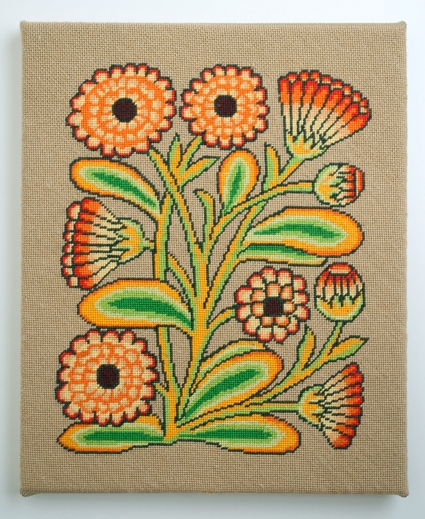 Crewel Works' Historical Needlepoint Canvases are fascinating hand painted reproductions of a 17th century Scottish tapestry. As old as these designs are, they have a surprisingly modern impact: bold, graphic and vibrating with visual energy. These stunning designs will definitely delight the needlepointer on your list! And bonus: turn this spectacular Marigold canvas into a kit with our hand selected bundle of silk and wool Trio!
Cross Stitch iPhone Cases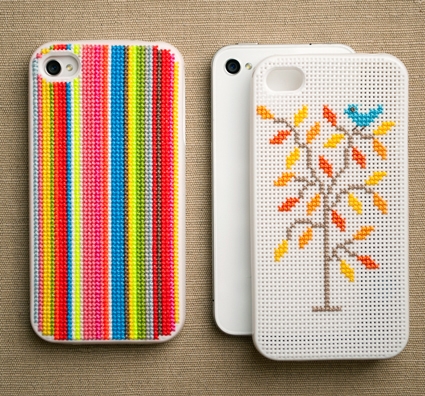 Old world craft meets new world technology with Leese's iPhone Cross Stitch Cases. Now your iPhone isn't just your trusty tool for finding the nearest taqueria; it's also a personal statement, accessorizing you with punchy, modern stripes, traditional cross stitch motifs, and everything in between! What could be craftier for the crafter on your list?
Purl Soho Project Bags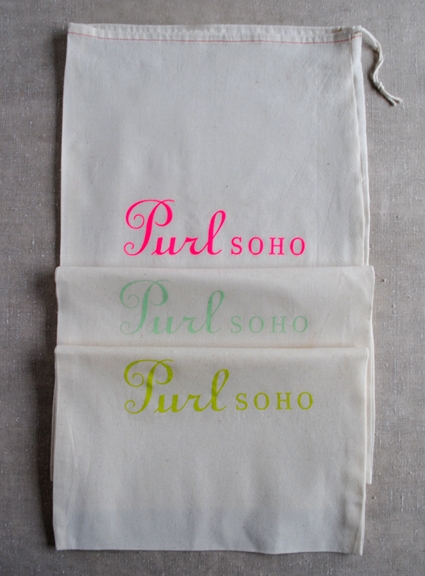 Giving a special skein of cashmere? A pretty bundle of wool felt? A beautiful selection of embroidery threads? Give them in a sweet (and useful!) Purl Soho Project Bag! It's the perfect place to store portable projects and will remind your favorite crafter of his or her favorite shop!
Jade Sapphire Cashmere Scarf Kits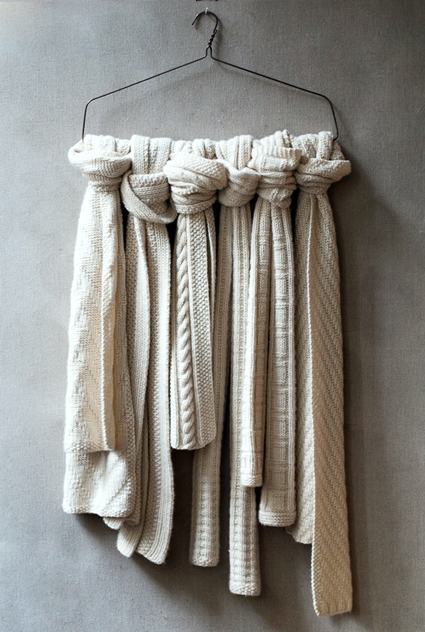 Jade Sapphire makes our very favorite cashmere, spectacularly soft and toasty. And in a kit, it's even more perfect for holiday giving! Each of Jade Sapphire's Cashmere Scarf Kits comes with seven beautiful scarf patterns and 350 yards of sumptuous worsted weight cashmere, enough to make your favorite! This photo shows the Manly Scarf Kits, and be sure to check out the Womanly Scarf Kits too. Aunt Jenny or Uncle Fred, we've got you covered!

Addi Interchangeable Needle Sets
Skacel now brings their exquisite engineering to Interchangeable Needles! Buy a set or create your own a la carte collection; choose from Addi's classic Turbo, pointy Lace, or beautiful Bamboo tips. Any way you go about it, Skacel's revolutionary Click locking mechanism ensures a smooth and secure connection. Every needle you need in one little kit? It's every knitter's dream!
Addi Turbo US Size 50 Needles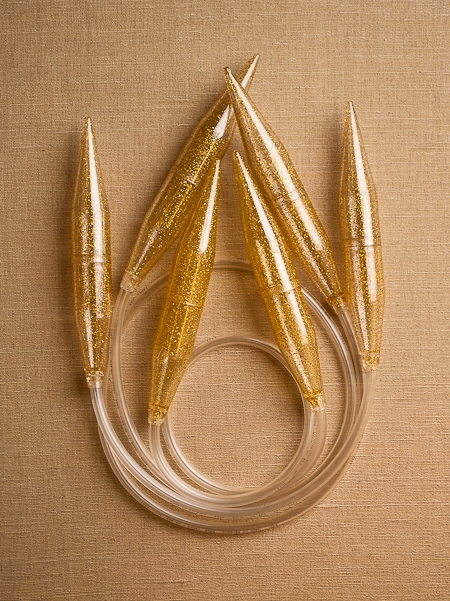 New from Skacel, these jumbo Addi Turbo US size 50 circular needles are just the right tools to make your big dreams come true! Use them with rovings, multiple strands and huge yarns, like our Big Stitch Alpaca Yarn. Besides doing giant duty, these needles are also fabulously beautiful with gold sparkly tips and transclucent cords. What a great gift… like jewels, only better!
Purl Soho Gift Cards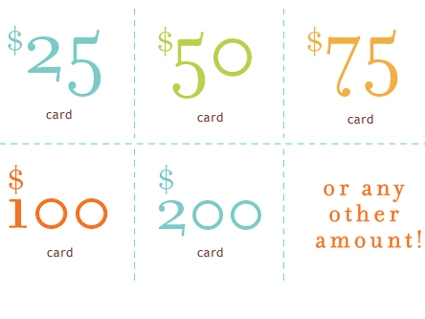 Still unsure about what to get the yarn or fabric lover in your life? Consider giving a Purl Soho gift card. Use it to shop online at purlsoho.com or at our New York City store to buy absolutely everything from cashmere to classes!
Shipping Info and Holiday Store Hours
If you are ordering Christmas gifts online, please be sure to consider the shipping deadlines below:
Domestic orders placed December 16th – 20th should select Expedited Shipping for a guaranteed delivery date before Christmas.
Domestic orders placed December 21st – 22nd should select Next Day Air for a guaranteed delivery date before Christmas.
Packages shipped on Friday, December 23rd with overnight shipping will NOT arrive on Saturday, Christmas Eve. Sorry!
International orders placed by December 12th should select Next Day Air to ensure a tracking number and probable delivery by Christmas.
Also please note that our New York City Store will be closed from Saturday, December 24th through Monday, December 26th so that our employees can spend the holiday with their families. We will reopen with regular hours at noon on Tuesday, December 27th.
Merry Christmas from everyone at Purlsoho.com, Purl Soho, and The Purl Bee!