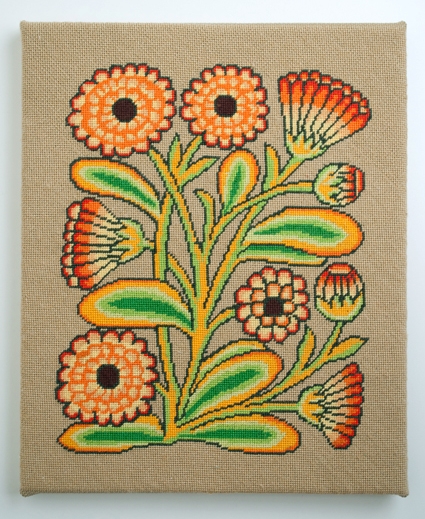 Some looks come and go. And then, some come back again and again and sometimes even again. Never have I felt so certain of this as when I learned that the needlepoint canvas, Marigolds, is not actually from a few decades past, but rather, a few centuries past. At first glance I assumed the inspiration hailed from the psychedelic '70s with its vibrating colors and concentrated energy. How wrong I was.
In fact, Marigolds faithfully reproduces the detail of a gorgeous 17th-century tapestry, housed at Scotland's oldest inhabited domicile, Traquair Castle. This style of flat graphics and bold color play once saturated the walls of British nobility. It reappeared in the hippy decor of late 20th century homes and is now finding a place in my 21st-century New Yorker's humble abode!
Purl Soho's amazing collection of hand-painted, historical canvases comes from the Crewel Works Company. Crewel Works is dedicated to the intensely accurate reproductions of designs found in 17th and 18th-century British needlework. Their aim, and ours, is to provide people with the opportunity to create their very own family heirlooms.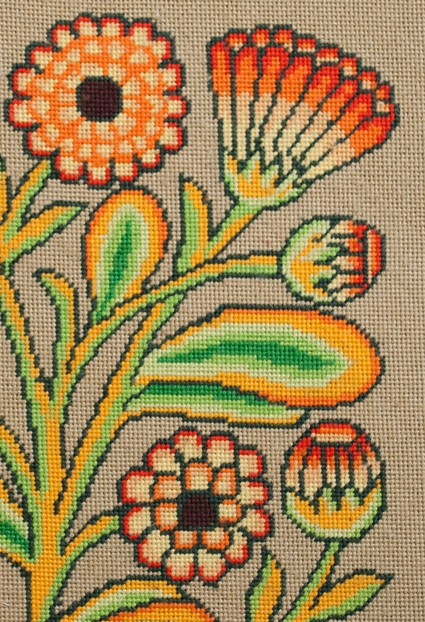 Marigolds is a 13.5-inches x 16-inches, 18:1 mesh, hand-painted canvas. It was stitched up using 1-ply of Brown Paper Packages' 3-ply, Swiss, silk-wool blend, Trio. This plyed needlepoint yarn is among my favorites with its hearty, yet lustrious finish. The wool provides a strength to last through the ages, while the silk gives off a beautiful sheen and smoothness while stitching.
Trio 136 Bittersweet
Trio 214 Quince
Trio 52 Citron
Trio 183 Leprechaun
Trio 177 Raisin
Trio 201 Lion
Trio 62 Spinach
Trio 155 Apple Martini
Trio 112 Espresso
Trio 15 Honey (3 skeins)
Trio 216 Marmalade
Trio 94 Margarita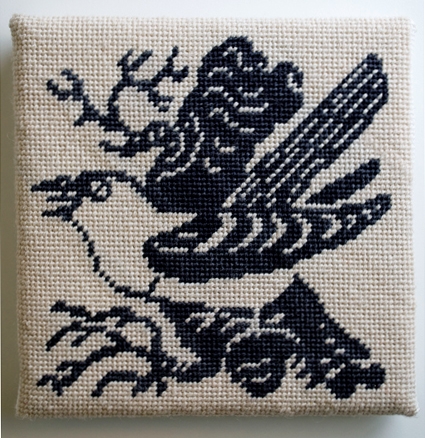 Toile Bird is another new, historical gem now available at Purl Soho. Toile fabric, or Toile de Jouy, originated in France in the late 18th-century. Traditionally, toile fabrics have repeated patterns displaying detailed, pictoral scenes, such as a young couple swooning lakeside or musicians playing a tune under a gazebo. This charming needlepoint canvas narrows in on one detail of a classic toile fabric. Toile Bird, with it's cream background and single contrast color, is a timeless canvas, perfect for a gift, as a pillow or a wall hanging.
Toile Bird is one of the many Birds of a Feather canvases. Their line is broad reaching and endlessly inspiring, from contemporary ABC samplers to quirky fairy tale illustrations. There is truly something for everyone!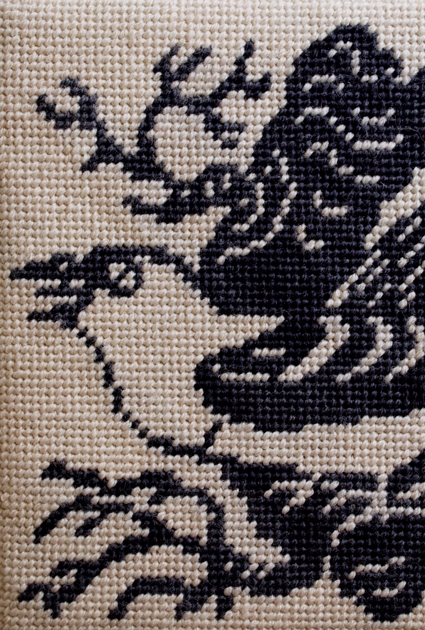 Toile Bird is a 6-inches x 6-inches, 13:1 mesh, hand-painted canvas. This Toile Bird canvas was stitched up using 2 strands of Gumnut's 2-ply, Australian, hand-dyed, wool yarn, Blossoms. Blossoms' animal fiber content gives it a nice natural elasticity which makes working with it quite forgiving for both beginners and old pros. This yarn blooms a bit, as it's name implies, making the canvas wonderfully full and lush.
Blossoms 961 (3 skeins)
Blossoms 999 (2 skeins)