Anna Maria Horner is a blogger, fabric designer and author whose bright, bold sense of style is fun and inspirational. Her cheerful, bubbly personality shows through in all of her writing and her colorful work. We find her enthusiasm and energy totally contagious.
In addition to all of her professional accomplishments she is also a mother of six beautiful children so it seems fitting that her new book, Handmade Beginnings is all about projects to welcome a new baby into the world (it also includes some lovely ideas for new moms as well). We recently had a chat with Anna Maria about her new book and her ideas on baby sewing which you can read below.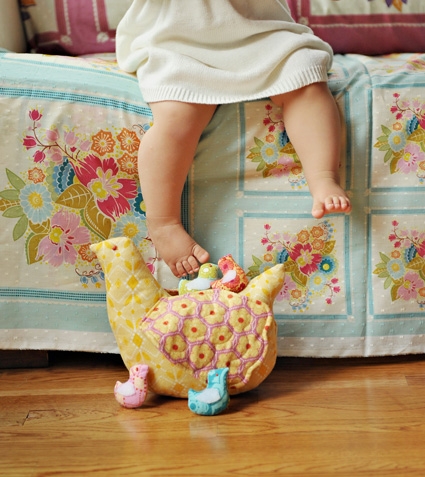 The Purl Bee: What is your favorite project to make for a baby shower?
Anna Maria: I definitely love to make quilts, but when I'm short on time toys are great.  I think the Henny Penny & Six Chicks is going to become a favorite very soon!
This project is made from Anna Maria's lovely Folksy Flannel, which you can find here.
PB: Are there any rules of thumb to keep in mind for sewing for babies? Do you like to use any particular fabric?
AM: I am always first looking for how soft a fabric feels for baby.  Cottons, are, of course wonderful in that regard.  And naturally they are easy to care for, and that is pretty high on the priority list since it seems laundry is what you spend most of the newborn days doing.  Cotton voiles, flannels and lawns are among my favorites because of their softness, but as baby gets bigger and is scooting around a lot, using something a little more substantial like quilting weight, or heavier cotton/linen blends is great for trousers.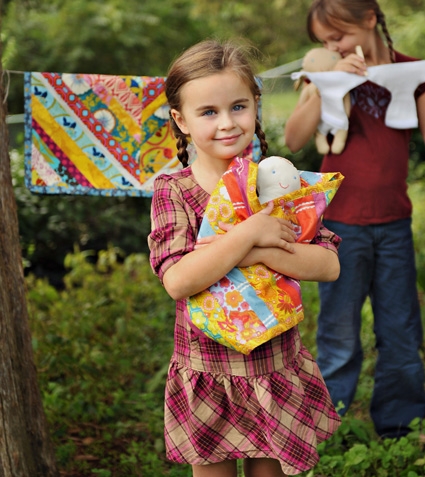 PB: What is your new baby's favorite project from the new book?
AM: Well, I would have to say the Sixth time's the Charm Quilt (pictured in the background of the book cover) gets used the most- and he definitely is comforted by its familiarity when we take it along with us on a trip or a stroll.  But he is actually IN LOVE with the little hand-sewn baby that is part of the Swaddled Baby Love project that I made for the older girls.  The girls call the doll "baby Roman" so I guess you can say he adores himself.  As do we.  But the cuddly doll is equally sweet for older siblings as it is for babies.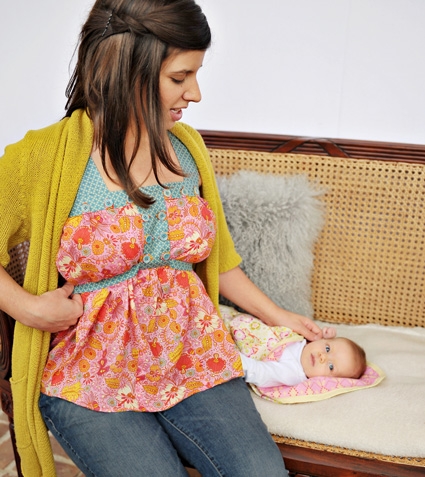 PB: And finally, do you have a particular favorite from the "Mama" section which features projects for expectant and new moms?
AMH: I love the Four Corners Blouse because of its versatility.  I wear it around the house with pjs and also the dressier versions under cardigans when I go out.  Its so comfy and convenient for nursing especially sewn up with lightweight voiles as the weather is getting warmer.
This project is made from Anna Marias amazing Little Folks Voile. This fabric is so beautiful and such a good deal! You can check it out here.
Thanks so much to Anna Maria for talking with us about her exciting new book, we think it perfectly captures her lovely, sparkling personality!
To purchase your own copy please click here!  Don't forget to check out Anna Maria's incredibly funny and inspiring blog right here and her entire fabric collection, including flannel, voile, dobby, olicloth, and solids here.