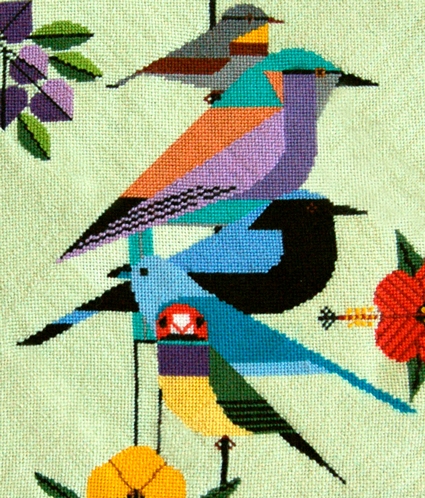 For some time now here at Purl, we've been bursting with enthusiasm about the subject of needlepoint. We are so thrilled to announce that we now have a breathtaking selection of handpainted needlepoint canvases based on the amazing work of the renowned late illustrator Charley Harper. We've been anxiously awaiting their arrival since January, but because each canvas is meticulously handpainted, we had to contain our excitement until now. Finally they are ready to share with you!  (You can find our entire collection right here). The design above is our first completed sample, it's called Rainforest Birds. This sample was one of those all Purl projects that many people had a hand in. We had to fight over who got to start it! Our resident needlepoint expert, Nikki, (and the manager of Purl Patchwork) won and she stitched most of the birds. Then Joelle took over finishing the birds and starting on the background, and finally Molly stepped in to finish it up. We stitched it entirely in our new collection of Paternayan Needlepoint Yarn which comes in over 400 rich and stunning colors (please see below for a color key with the exact colors we used if you'd like to make one like ours, you can download and print the color key full size here.).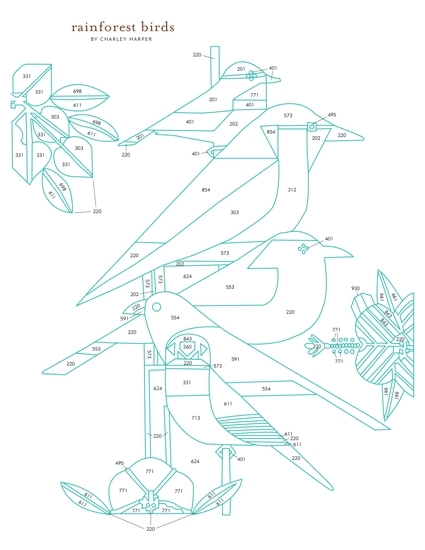 We are crazy over the work of Charley Harper (1922- 2007) and we're not alone! Harper was an American artist and illustrator whose primary subject was wildlife. He called his style "minimal realism" because he concentrated on pattern, color and shape rather than detail. Others have called him an American Modernist but to us his whimsical, beautiful work is simply timeless.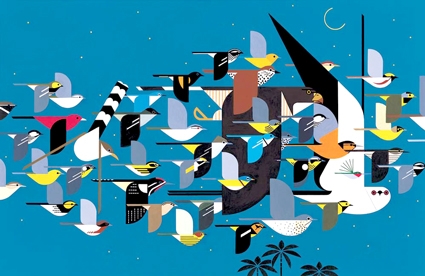 In the 1950's, Harper did a famous and highly collectible series of American bird portraits that appeared twice a year in the Ford Times. The series is stunning and we hope that someday they will ALL be available in needlepoint canvases! When the magazine was still in print, one could even order original silk-screens of these birds from the magazine. Some of Harper's work can still be found today at The Art of Charley Harper, which is a wonderful site that sells both the vintage prints and all the books that feature his work. Harper applied his talents to many other things as well, from illustrating the 1961 Giant Golden Book of Biology to over 50 ecological posters for nature centers, wilderness reserves, parks and zoos and more. The painting above is called Mystery of the Missing Migrants and it might be our favorite. The artist represented 45 different birds in this piece!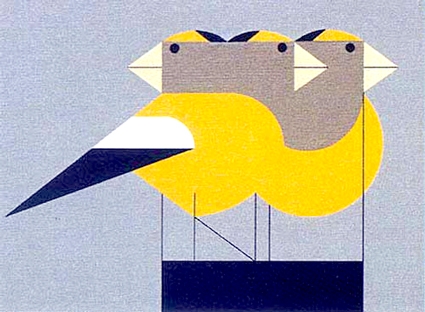 We think that needlepoint canvases are an ideal display of Charley Harper's work since the bold designs and wonderful colors lend themselves to needlepoint's graphic quality.  The painting above is another of our favorites, it's called Gregarious Grosbeaks.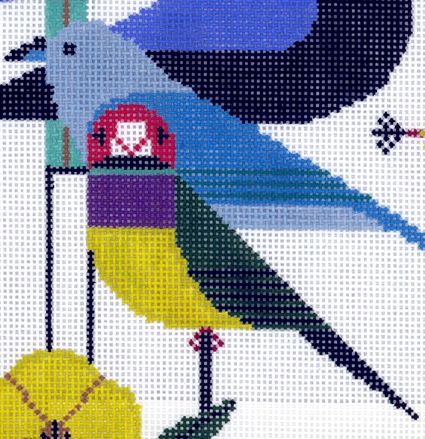 Handpainted needlepoint canvases are extra special because the artist takes extra care to paint the colors on the canvas grid in such a manner that it is perfectly clear what color each stitch should be. If this process weren't taken so seriously, colors would bleed from one hole of the mesh to the next, making it unclear what colors should be used for what stitches and therefore creating a much less satisfying result.
Needlepoint canvases are usually made of stiffened cotton, they come in a variety of mesh sizes which relate to the number of threads woven per inch. The sample above is a 13:1 canvas, which means 13 stitches per 1-inch. Canvases typically come in sizes of 10:1, 13:1 and 18:1. Depending on which mesh size you choose, different thicknesses of yarn should be used. The more threads per inch on the canvas, the smaller the holes and the thinner the yarn needed. If your yarn is too thick for the mesh it will shred, if it's too small, you will have show through on the finished piece. Yarn that is made specifically for needlepoint like our Paternayan Needlepoint Yarn comes in small skeins that are made up of 3 loosely plied strands of 2-ply yarn that are easy to pull apart. For our 13:1 canvas we stitched with 2 of the 3 strands, if we were stitching a 10:1 canvas we would have used all 3, or alternatively on an 18:1 canvas we would have only used 1 of the 3 strands. (Each skein of needlepoint yarn worked with 2 strands on a 13:1 mesh covered approximately 2-square inches.)  We used approximately 12 skeins of the background color, 2 skeins of the black, and 1 skein of each of the other colors.  Keep in mind that you can use any yarn you'd like as long as it's neither to thick nor too thin. A little experimenting is encouraged!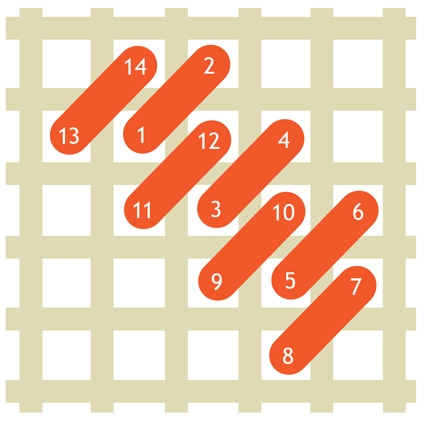 If you've never needlepointed before you may be surprised to discover just how fun and easy it is! We worked our Rainforest Birds sample entirely in the ultra simple basketweave stitch pictured above (If you need more in-depth instructions on how to needlepoint we highly recommend the TNNA How To Needlepoint Booklet).
If you'd like to get started with needlepoint, please check out our entire collection of Charley Harper Handpainted Needlepoint Canvases!
Happy stitching!