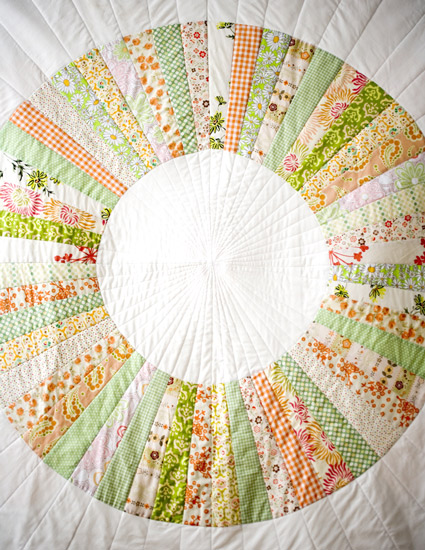 Way back in January of 2008 when Ray and I began the process of looking for a wedding location, I had no idea where we would have it or what it would look like, our only preference was that it be outdoors. We were so excited when we found The Laguna Cliffs Resort in Dana Point, California, a beautiful spot overlooking the ocean where we could have both our wedding and our reception. The standard setting at Dana Point is all white chairs, table cloths and market umbrellas, giving us total flexibility to create a wedding that reflected our style: colorful and sunny with a handmade touch. There was no question that we would somehow make use of the fabrics we sell at purlsoho.com and so we began the process of considering colors and prints that would work for us. For the reception we decided to make cloth napkins, each table featuring a different print in varying shades of sherbet orange and citrus green. In April I started collecting prints in earnest, but even though I am surrounded by fabrics in almost every color and style at our warehouse, it was actually a bit challenging to collect enough prints that all worked together. Every time a new shipment of fabric would arrive at our warehouse I would rush to open the boxes as if they contained a hidden treasure!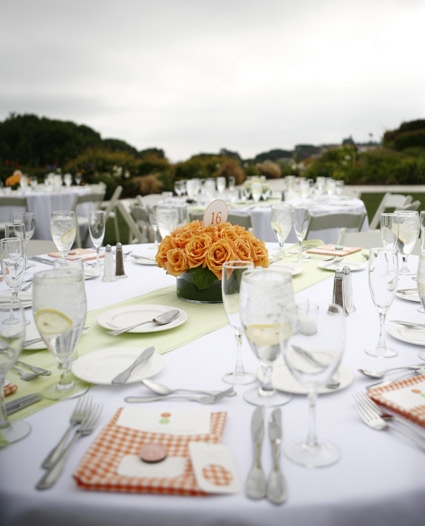 Once I had enough prints I turned to Molly's Simple + Spooky Cocktail Napkins Project Journal for guidance on an easy method for finishing the sides. My friend and co-worker, Mari and I pre-cut the fabrics into 19-inch squares with a 3/4-inch right angle triangle cut from each corner and shipped them off to friends and family who had enlisted to help sew them up. About a month later as they were all being shipped back to me, I realized that after the wedding we would be buried in orange and green napkins if I didn't figure out what to do with them! At the end of the reception, I was surprised and relieved to discover that many guests wanted to take their napkins home as a memento.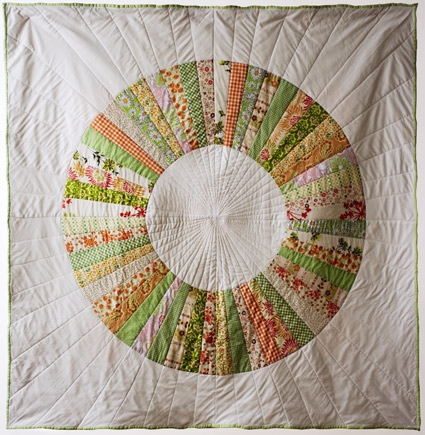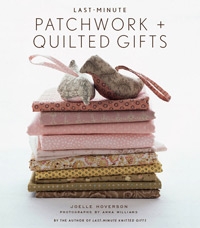 I've always wanted to make something from Joelle's book Last-Minute Patchwork + Quilted Gifts, and have been told by many that the Color Wheel Quilt was quick and easy to make, so I quickly decided to make my own version of this quilt, The Wedding Wheel Quilt. I was lucky enough to have Joelle visit me in November (so the quilt was even more quick and easy to make!) and we made the whole thing in one day. Happily, we were left with enough napkins to make the top of this very special quilt.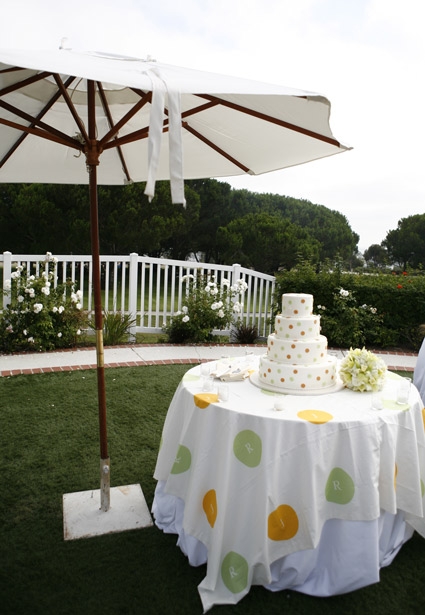 We used our custom printed fabric from Spoonflower from our cake table for the back, and we even had a few (clean!) Kona Cotton Mint table runners after the reception that became the binding for the quilt.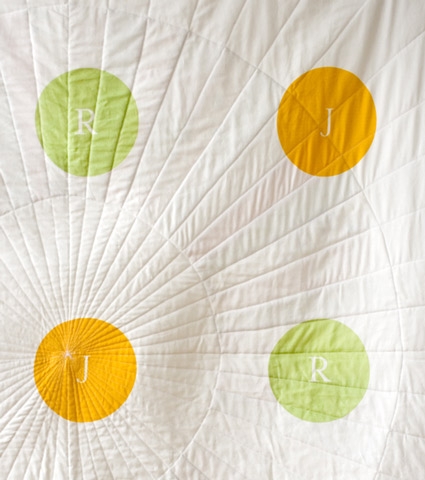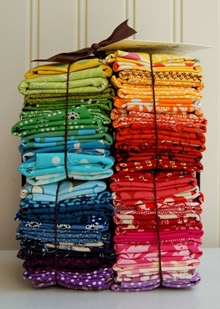 While our Wedding Wheel Quilt is one of a kind many of our readers have used our pre-cut Color Wheel Quilt Bundle to make their own Color Wheel Quilt. The Color Wheel Quilt Bundle contains a complete spectrum of 52 fat-eighths, enough to make the wheel portion of two Color Wheel Quilts (if you cut very carefully) or the quilt and a few other small projects.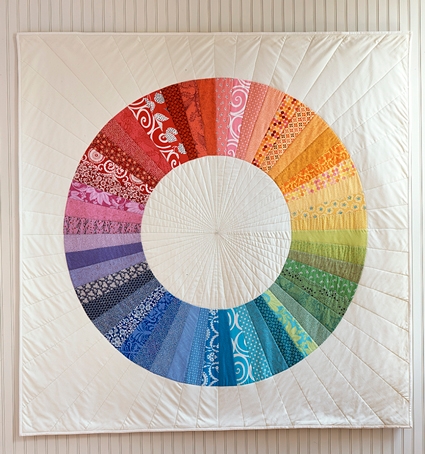 The photos of the wedding included in this story are from our wonderful photographer and friend, Eva Ng and we're also very excited to share that you can see more photos from our wedding in the Winter 2009 Issue of Martha Stewart Weddings which will be available everywhere on December 29th!  You can see more of our wedding on the Martha Stewart Wedding blog "The Bride's Guide" by Darcy Miller at this link.