These baby booties dangle near the front window at Purl, showing off their fuzzy fibers. Belangor 100% Angora comes from French Angora rabbits; the fibers are so lofty they don't even require cutting, just regular combing.  An abundance of colors and a hard-to-beat texture makes this yarn a wonderful fiber for knitting and wearing.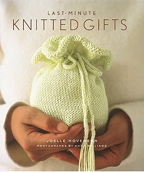 Joelle's Last Minute Knitted Gifts, are the perfect way to incorporate angora into a baby project.  They require only one skein of yarn and an hour or two to make.
Your baby friend's feet will be fuzzy as Peter Rabbit himself.